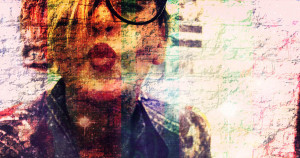 Visibility on race, age, body types, and roles for women has improved much over recent decades, but are our erotic novels keeping up? Do older, darker, or larger ladies get much of a look in when it comes to heart-racing sexy times? Let's take a pulse check on the state of diversity in lesfic erotica.
I recently led a panel discussing this subject. We looked at things such as the physical beauty and body shape of characters, the roles and storylines in erotica, and who is writing lesbian erotica. The latter is a hot topic which I've discussed before in the blog, Hot, Het and Hated—How Lesbian Erotica Has Been Hijacked.
Race—It's Mighty White Out There
The vast majority of f/f erotica features white characters. And the vast majority of f/f erotica (or, at least, the ones written by women—and that's a whole other subject) is written by white women. Yet any glance at the statistics covering racial diversity in the lesbian/bi community will show that our community is not remotely 100 percent white.
So where are the women of color in our stories, and where are the women of color authors? I'm always thrilled when I discover a non-white character in a story or book, and even more so when that happens in erotica—as long as the character is not, of course, there purely for fetish reasons. Unfortunately, an awful lot of that goes on too. Sigh.
Age—Over Thirty and Overlooked
The only women having sex, if you believe f/f erotica, are the under thirties. No one over that age apparently gets to enjoy any fun or kinky stuff. As a woman of a certain age with a nicely active sex life thank you very much, this offends me deeply. Ageism is as rife as sexism in everyday life, and to see that ageism so apparent in lesbian/bi erotica is disappointing—again, the LGBT community (and its readership) is not all under thirty, so where are the sexy stories representing that?
I know of a few, but as with stories featuring racial diversity, it takes a lot of trawling through blurbs on Amazon to track them down, or seeing the odd recommendation out on social media. And on social media I see constant complaints from the women around my age and above who are let down by not seeing themselves represented in the stories they buy.
Let's Get Physical—As Long As You Look Perfect
Every woman in lesfic erotica having sex is gorgeous. They're super slim, and either beautifully femme with long hair, toned arms, and amazing eyes, or perfectly butch with just the right amount of muscles, at least 5 feet 10 inches tall, and devastatingly handsome. Because, duh, that's just described every woman in the LGBT community, right?
Of course not! Where are the short women? The women larger than a size zero? The women who usually wear jeans and a T-shirt but wouldn't call themselves butch? The women whose noses might be considered too big, or who wear glasses, or who have a disability?
Yes, I get it—a lot of erotica is written as fantasy material, and readers often want to disappear into a make-believe world where everything is perfect. But not all readers want that—some want a fantasy that involves someone just like them, a character they can really relate to because then the fantasy contains a much deeper connection and everlasting effect.
Story—A Tried and Sorely Tested Formula
Much of the f/f erotica I've read features one of two storylines: (a) the strong butch dominating the soft femme or (b) the straight woman being "converted" to lesbianism in one encounter with a stranger. And notice she jumps directly from straight to lesbian—apparently being bi isn't an option.
So many anthologies I've ended up just flicking through because two paragraphs into a story and I'm like, "Meh, heard it all before". And again, I don't get it, because these two scenarios can't possibly be the sum of the erotic fantasies that play out in the minds of the readers in their everyday life. I know they certainly aren't for me.
Possibilities and imagination
You know, there are almost endless possibilities for erotic scenarios, and if there's one thing I know about a lot of women, they've got incredible imaginations. And I think we the writers should always remember that, and honour it whenever we think about writing erotica.
(Copyright picture above: pixabay/Marishon)
A.L. Brooks currently resides in London, although over the years she has lived in places as far afield as Aberdeen and Australia. She has just published her third book Miles Apart with Ylva.
---
Ylva is declaring August 2017 Diversity Month and we're having a sale to celebrate. You want diversity? You got it! So, to bag a bargain and enjoy a diverse read or twenty, click here: Current Deals.
---