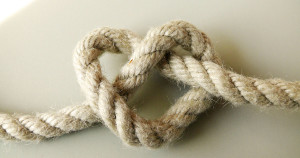 It's 8 p.m. on a Friday and two middle-aged very straight women are speaking in hushed tones about a book that they loved, but ""gosh, I really shouldn't"." By now you probably know what book I'm talking about. Fifty Shades of Grey took the world by storm and even in the teacher's lounge of the middle school I worked at, colleagues were talking about whips, canes, and handcuffs. For weeks, it was the only thing they talked about and it was cringeworthy. I am not a fan of that book; it's abusive and harms the BDSM community.
BDSM and its community is a taboo topic. We talk about it, but we do it quietly, behind closed doors, and perhaps only after drinking one glass of wine too many. If you do have the courage to talk about publicly, you run the risk of being called a pervert, even though we've all–at some point–had handcuffs in our hands and chuckled about the possibility of using them on a partner.
Here's the thing: BDSM goes beyond so much more than just handcuffs and blindfolds in real life, and we need to see that represented more in fiction. So, here are three myths and tips about bondage, discipline, submission, and masochism.
Myth: BDSM is an unhealthy, abuse-based relationship
BDSM is a beautiful relationship between two consenting adults. There is a clear cycle within domestic violence: abuse, guilt, excuses. Rinse and repeat. None of that happens within a BDSM relationship. It is based on communication, consent, play, aftercare, and more communication.
In a healthy BDSM relationship, there are terms and conditions when it comes to punishments. Punishments could include infliction of pain, but this part of the relationship has been consented to by all parties. There is a phrase that could be the BDSM mantra: "'safe, sane, and consensual'." It's not negotiable. A healthy relationship, BDSM or not, will always be about consent and safety.
It's important to show this in fiction, so that anyone who picks up a book about BDSM, can learn more about what a healthy BDSM relationship is like. Furthermore, when writing fiction that includes BDSM, there is an opportunity for non-kinky people to learn more about the subject without thinking it's a taboo; rather, they can learn that BDSM is about consent.
I cannot stress this enough. Consent is everything. Without consent, there can be no play. This goes for everything in life: Consent. Is. Everything. It doesn't matter how you establish consent, as long as you do.
Myth: YouTube can make you a bondage expert
YouTube/Google/Interwebs can teach you about bondage, but you can't watch a video and then incorporate that information into tying up someone in real life. Bondage can be incredibly dangerous and you need to know what you're doing. YouTube can teach you about knots, but it won't help you when your submissive's blood flow is cut off because the ropes are too tight. You can ask Siri to show you different bondage techniques but when your submissive passes out Siri will be no help.
Learning about bondage (and BDSM for that matter) takes time. It goes beyond Googling and YouTubing pretty videos of Shibari. The best way to learn about bondage is to go to an actual bondage rigger (rope expert). Let the trained, train you. Learn, watch, do, but always do it with someone who is experienced, until you're ready to teach someone else.
When writing about bondage the same rules apply. Don't just watch, ask question and learn. When people read fiction it's easy for them to think, "Heck, I can do that with my eyes closed." That is how accidents happen.
Myth: All BDSM play is hardcore
Wrong. Not all Dommes are into giving humiliation. Not every submissive is into receiving pain. Not every submissive is a slave and not every slave is a submissive.
BDSM can be incredibly sensual. A scene can involve wax, silk scarfs, feathers, and chocolate. A scene can be about being together in the moment, just you and your submissive without a care in the world. BDSM can be about fingertips languidly stroking sweaty skin, lips constantly moving until they ache, and teasing until even the slightest touch becomes too much.
BDSM isn't about pain. It's about the connection between two consenting adults. There are millions of ways to practice BDSM, whether it be hardcore or sensual, painful or plain teasing, they all have one thing in common: the constant power exchange between two individuals who practice safe, sane and consensual sex.
There you have it folks. That is where you start, and whether it's in movies, books, or in your neighbor's bed, remember safe, sane, and consensual sex should always be at the forefront of your mind when practicing BDSM.
AJ Schippers is a professional procrastinator who likes to make people cry with heart-wrenching stories. When she's not writing, Lara Croft often entertains her or AJ is often furiously reblogging about fandoms on Tumblr. She just published her first novel Shadow Haven with Ylva.
---
June's our steamiest of months and we're selling all our erotica and otherwise sexy sizzling books for a discount! Check out our women loving women in the sexiest of ways.
---