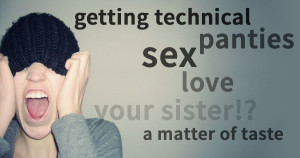 Lesbian fiction pet peeves. With those four words you have the spicy formula for a raucous debate or a duel to the death. Quite possibly both.
In a fit of madness, I decided I wanted to know all the things, big and small, funny and not, that drive lesfic readers up the wall. So I turned to some avid readers, an unscientific poll, and social media—namely, a popular Facebook group for lesfic lovers.
As a lesfic writer myself, I'm well aware authors are fallible and can often forget the little things in their enthusiasm to create intricate plots. But readers notice. And how.
Before I get to the results, I should note that there are sometimes exceptions to these literary faux pas. Violating these peeves can make sense if the story demands it. Experienced writers can even turn certain bugbears into a clever plot point. But most of the time—nope, we're only human, and these peeves are only good for a laugh.
So what did the amused, spleen-venting readers conclude?
Panties no washing machine can fix
Beware the ruined panties. These things have attained a mythical status in lesbian fiction as items so fragile that being highly aroused while wearing them renders them useless forever more. Forget tossing them in washing machines, they're fit for only one thing—a smug morning-after glance and a wistful kick to the bin.
Yet despite being noted by readers as a ridiculous concept—right up there with passing out after great sex, dramatic fainting due to shocking news, and failure to use lube for sex acts rhyming with "trysting"—the Ruined Panties Myth lives on in lesfic.
It wins an honourable mention as the most warmly regarded peeve. Possibly because its roots are in fan fiction. (So to speak.)
Wait, she was your sister?
The number one peeve by a mile was characters not asking obvious questions or making assumptions in order to force drama. It's worse when it's a smart character doing the dumb thing. In real life, these dramas would be solved with one conversation. For example, no one, after witnessing her girlfriend kiss someone else, would then move out, her heart breaking, without bothering to ask who it was and why she kissed her. The frustration from unrealistic plots and bad communication gets readers fuming.
Hello, I love you
The second-biggest peeve was contentious. Instant love. Some authors argue there is nothing wrong with depicting this because it happens in real life. Critics argue it can be too rushed and unbelievable in fiction. Most readers say they want the journey to be a little twisty before the U-Haul screeches to a stop and the rescue pet gets co-adopted. Bottom line: It's how well the writer sells it.
Let's Talk About Sex
High on the peeves list was sexy times written badly. Like when a character goes from dressed or underwear-clad to naked in one breathy moan. Or there are confusing, complicated, or impossible positions. A beta reader once told me one of my sex scenes was "disappointingly unworkable"—she knew because she tested it with her wife. Now that's a committed beta.
Oh baby, it's a matter of taste
Not all quibbles are universal. Some people have no issues with peeves that others loathe. Examples are women being called "baby" (especially when the character is older), women who cry a lot, shy virgins who have pro moves in bed, and women initiating sex while dressed like a slob. Interestingly, that vast lesfic sea of perfect, rich, blonde lesbians with six-packs who don't know they're beautiful gets a side-eying from a few readers who point out it's so overdone and totally implausible. Wait, what?
Getting technical
The technical peeves are the worst kind because no amount of skilled writing can hide them. Think, bad editing, point-of-view shifts within a scene, kids who sound like adults, and adults who sound like teens. Info dumps are among the worst things for writers—how do you convey all the background information without making the reader feel like they're watching the History Channel or building an IKEA kit? It's brutal for writers and a snooze fest for readers.
Once a bitch…
As for my own peeves, well, I have three. The forgetful: I get OCD-level twitchy about women rushing to bed who leave their home's front door wide open, as well as lovers who have kids but don't lock bedroom doors.
The screamers: Orgasmic lovers who literally scream into ears. My first girlfriend did this once. It was agony. I told my mother my Walkman caused the resulting partial hearing loss. Not even kidding.
The personality switch: Look, if your protagonist was a hard ass before she got a new lover, she'll still be a hard ass in the morning, just with a bigger smile. She will not do baby talk or describe rainbows in your soul.
In sum
Mistakes are easy, and there are so many ways to make them in writing. Even this blog is an info dump of its own. So perhaps the important thing is just to stay focused on the big three — realistic drama, realistic sex, and real people.
Oh, and don't forget to ditch the ruined panties. They only ever need a good wash.
*Do you agree with this list? What are your pet peeves in lesfic? Leave a comment.
Lee Winter is an award-winning veteran newspaper journalist who has lived in almost every Australian state, covering courts, crime, news, features and humor writing. Now a full-time author and part-time editor, Lee is also a two-time Lambda Literary Award finalist and a Golden Crown Literary Award winner. She is the author of The Red Files and Requiem for Immortals.
(Copyright picture above: photocase.de/sommerkind)