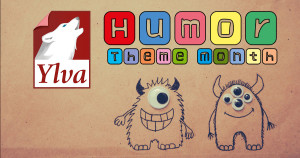 Ready for a laugh? Ylva Publishing is getting into the spirit by discounting our funny lesfic books this month. Some of our most successful and famous writers, along with a few newbies, have dabbled in the art of the humor genre at one time or another, meaning you can snap up a bargain from some awesome authors.
We'll also be blogging up a storm for our comedic month. Lee Winter will reveal how she accidentally discovered she was a funny writer — live on Australian television. Other themes explored by Ylva authors will be the pros and cons of using humor, and how to use it for unexpected laughs, to add contrast and create a successful novel.
Those are a lot of reasons to smile!
Get your April discounted funny books here.
(Copyright picture above: photocase.de/suze)