I love books. Most of all, however, I love books that leave me reeling. I adore a good dollop of angst, well-crafted drama and words that make me ache. So, in essence, I like being punched in the face by my books. It's great. While none are lesbian fiction, they all follow female characters and the various ways they can show their strength. Also, these are in no particular order. Are you kidding? Choosing five was hard enough. So, let's get started.
The Book Thief, by Markus Zusak
(Alfred A. Knopf, 2007)
This is a beautifully written, heart-wrenching story told during World War II, and focuses on a young German girl, her foster family, and her various friendships and relationships. However, this book is told from the perspective of Death, and that is what gives it its unusual flavor and haunting wording. Death isn't sure why they're* interested in Liesel, but their brushes with her are coloured with Death`s interest and concern. The lines in this book, at times, made me lower it and take a second just to absorb how beautiful it was.
* Fortunately, I don't know death well enough to ask their gender.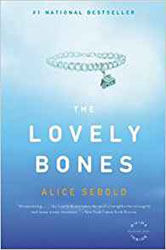 The Lovely Bones, by Alice Sebold
(Pan Macmillan, 2003)
This book is hard to stomach, as it starts with the violent death of a young girl. So. Warning there. However, the book follows her watching her family from the beyond, and how they grieve, fall apart, stumble through the aftermath, and try their hardest to pull themselves back together. Her father is fixated on finding her killer, who is their next door neighbour, and her mother just wants to move on. Amongst it all, she watches the boy she thought she could have loved one day form a friendship with the girl her soul brushed passed on its exit from earth, and the way they're all linked. It's an aching sort of book, brilliantly written and none of the characters are perfect, but they're perfect in their flaws.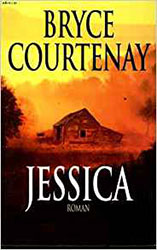 Jessica, by Bryce Courtenay
(Penguin Books Australia, 2000)
Jessica is a book I've read three times, the first as a teen. It follows the story of a young girl trying to survive in the man's world of outback Australia in the early 20th century. Jessica is raised to help her father on their farm, while her sister is raised as a "lady" by their mother. Due to this, she never really knows where she belongs and, tough as nails, has no desire to belong in the way her mother wants her to. This story sweeps years, and while it meanders too much at times, I loved Jessica, her resourcefulness and her ability to survive the constant terribleness life throws at her. It's a hard story, unfair at times, but a great read.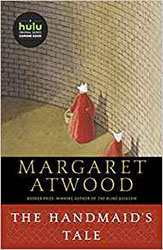 The Handmaid's Tale, by Margaret Atwood
(Anchor, 1998)
This book. This book. I loved it. And I hated it. Mostly I loved it. I read it for English Lit in my final year of high school, and part of the reason I hated it was probably due to how much I had to dissect it. But I also hated it for how much it made me think. And therefore I loved it. See my issue? I'm always a sucker for a dystopian future. Especially ones that indicate how quietly and easily a government can get us there. Scarily relevant in these times. Or maybe this has never stopped being relevant? It explores women in suppression, and how people manage to resist at a time when that can lead to a death sentence. A fascinating read.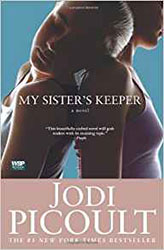 My Sister's Keeper, by Jodi Picoult
(Washington Square Press, 2004)
Ugh, I'm forever mad this was made into a movie that didn't even come close to doing the book justice. This book follows a family whose very young daughter is diagnosed with cancer. Out of options, they choose to conceive a baby via IVF that will have stem cells they can use for treating their first child. Difficult decision, right? Imagine then, after making the firm decision to only use the third child in this way once, she's needed again and again. This story shifts POV from the parents, to the sick eldest daughter, to the forgotten middle son, to the youngest daughter who, out of nowhere in her parent's eyes, at age thirteen goes to court to sue her parents for medical emancipation. The ending was fitting, soul destroying and everything. I've never read it again, because I didn't want to ruin the first time I read it.
So, there's my lists of books that destroyed me emotionally, leaving me sobbing, reaching for chocolate, or wandering around numb for days on end. Enjoy!
Originally from Australia, G Benson lives in Spain, speaks terrible Spanish and goes on as many trips to new places as she can, budget permitting. This means she mostly walks around the city she lives in. G Benson has published All the Little Moments and Flinging It with Ylva Publishing.