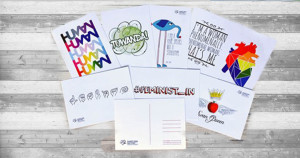 The Happy End Factory plans to produce beautiful lesbian and feminist T-shirts when its crowdfunding finishes this month.
To support their awesome ambitions, Ylva Publishing is joining forces to give away some of their cool T-shirt designs in postcard sticker form.
And Ylva is contributing to the booty with four of its titles (which we also just happen to think would look cool as postcard stickers) as e-book prizes.
These are the four popular novels up for grabs:
* Flight SQ016 by A.E. Radley
* Grounded by A.E. Radley
* Popcorn Love by KL Hughes
* The Return by Ana Matics
To enter, just post a comment under this blog or at our Facebook/Twitter Happy End Factory giveaway post until February 6 (23:59 Central European Time). We'll keep our fingers crossed for you!
What is the Happy End Factory?
Co-founder of the German online mag phenomenelle, Daniela Zysk, and freelance consultant Larissa Gleich recently founded the Happy End Factory. They want to bring fashion and merchandise together for the LGBTQI community, allies and all feminists and supporters. The shirts are not just supposed to look good, they also will have a political meaning. As the Happy End Factory slogan says: Make your statement!
The crowdfunding at Startnext, which ends February 28, 2017, will help make this dream come true. To help support the Happy End Factory or find out more, visit their crowdfunding website: www.startnext.com/en/happyendfactory
T-shirts and other pretty things are waiting for you!