No such thing, they have to suffer—pages fluttering in the balmy Aegean breeze, sand up their French grooves (please Google), covers covered in sweaty palm prints. And all because you dragged them down to the beach when you should have been siesta-ing, or chilling, or lunching, brunching, boozing. And why would you be abusing books like this on an Aegean island? Because you found this link—www.lesvoslesfic.com—and you realised you need, yes, need, a little holiday…and another book.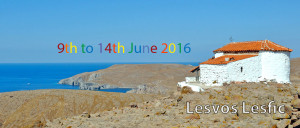 Ylva is hosting a getaway in Skala Eressos, Lesvos. We have readers, writers, and editors, and we want to have you. We are working together with Sappho Travel and the Flamingo Bar, our hub pub.
It's a mash-up between all the fun usually found in a wonderful holiday destination and hanging out with bookish people doing bookish things. A simple idea to bring us all together to discuss things that bring us the upmost joy—fun, sun, new friends, and books!