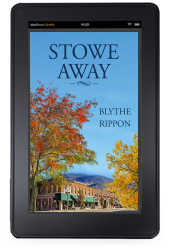 In 2013, Blythe Rippon predicted legal history with her brilliant debut novel, Barring Complications, a bestselling lesbian fiction legal drama about the US Supreme Court hearing a same-sex marriage legalization case.
In Stowe Away, her sophomore novel now available now exclusively in the Ylva online shop, Blythe opted to forgo courtroom drama and write a quieter but no less compelling kind of story. This time around, she has given us a beautiful coming-of-age tale for the unsure twentysomething in all of us.
Stowe Away is about confronting tragedy with determination and adjusting your expectations while still never giving up on the search for true happiness and, yes, true love. It's available now exclusively in our online shop. Buy it now!
Brilliant, awkward Samantha Latham couldn't wait to leave rural Stowe, VT for an illustrious career in medicine. But barely months after she enters med school, Sam gets an unexpected call from a hospital that forces her to move back home to care for her ailing mother. A life of boredom and isolation seems imminent until a charming restaurant owner named Maria  inspires Sam to rethink everything she thought she knew about the town of Stowe, about success, and, above all, about love.
Buy Blythe Rippon's Stowe Away in e-book format now in the Ylva online shop.