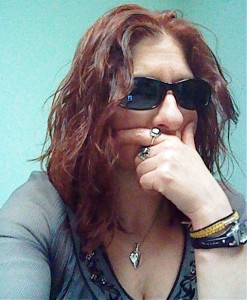 What do vampires do for a living? Are they night watchmen? Rock stars? Morticians? Or are they independently wealthy and sit by a fire lamenting their fates? Or maybe they skulk around the streets of whatever city they live in looking for victims.
Ylva will find out this summer as we welcome to the Ylva pack author R.G. Emanuelle and publish her first novella with us, Have a Bite, an urban fantasy vampire tale with a twist—of lemon that is.

Delphine Bouchard, the main character in Have a Bite, is a vampire. She's also a chef. A celebrity one at that. And why not? She doesn't skulk, lament, or hunt. She cooks. She has an enormously popular restaurant in Brooklyn, New York, and even though the world at large doesn't know she's a vampire, she plays up her goth-steampunk reputation by serving only at late hours. She and her cousin Dominique, also a vampire, both have lived life to the fullest.
But in Have a Bite, Delphine must contend with threats to her business, her staff, and her life: A bitter two-bit restaurant reviewer. Mysterious sabotage at her restaurant. And a tiny nuisance known as a vampire hunter.
Have a Bite features vampires, witches, humans who submit to vampire feedings, and just plain, ordinary humans, all working, living, and playing in the food capital of the world. They're all part of Del's life, and she handles them all as only a celebrity vampire chef can: with style.
More about R.G. Emanuelle:
New York native R.G. Emanuelle spent more than 20 years as an editor, writer, and typesetter. When she was child, a neighbor called her a vampire because she only came out after dark, so it's fitting that she writes about creatures of the night, which includes her first novel, Twice Bitten. She is co-editor of the Lambda Literary finalist anthology All You Can Eat: A Buffet of Lesbian Erotica & Romance, and the Golden Crown winner Unwrap These Presents, as well as Skulls and Crossbones: Tales of Women Pirates.
She is also a culinary school graduate, which is what inspired her to write her romantic novella, Add Spice to Taste, and Have a Bite, the first of forthcoming The Vampires of Brooklyn Chronicles novella series. Her short stories can be found in numerous anthologies.
Learn more about Have a Bite here.
Find out more about R.G. Emanuelle here.