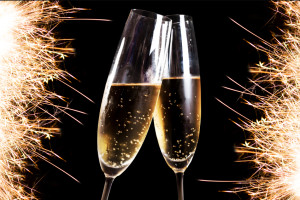 Happy New Year!
We're taking a couple of days off from the Ylva magic factory to celebrate the arrival of 2016 (and recuperate from the celebrating!), but just a quick post to say thanks to all our authors, staff and you readers for one crazy great year. We wish for you and yours an amazing 2016.
The passing of a new year is of course when thoughts turn toward new beginnings and New Year's resolutions. We'll have more about that this Sunday, when we return with a post of 2016 resolutions from our authors.
New Year's Day is also a time when many of us try to think about the good we can do for each other in the coming year. But for a moment, we'd like to take a last look at 2015 and mention some good that we did with our books in this past year.
Ylva makes a habit of helping out some deserving causes each year, whether through monetary or in-kind donations. This year, we were proud to contribute a modest amount of our profits to agencies helping the refugees in Europe, namely Angalia and Village Of All Together and also to YouthCare in the U.S., which helps LGBTQI homeless youth. We also donated books to some public libraries and to US organizations that are working to help LGBTQI folks, especially youth, have access to books with positive queer characters.
The following are just some of the organizations that we were proud to help in 2015:
We're pleased that in our small way, we could do some good for others in 2015. Here's to a happy, healthy new year for all of us, and to doing some more good in 2016.