Each year at Ylva around this time, we ask our authors to tell us about the cool and interesting gifts they received during the holiday season. This year, answers ranged from the humorous to the touching. We think you'll find their answers as fun as we did. Read on and find out what your favorite Ylva author got as a present this year…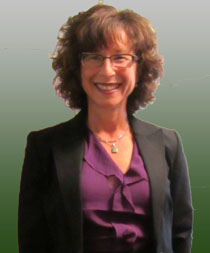 Cheri Crystal
The first greatest present I received this holiday season was a visit from my son Brian for the duration of Hanukkah. It was particularly wonderful lighting the Menorah with him because it's really hard to be so far away from my family especially during the holidays. As if his presence wasn't enough, he gave me presents as well. My favorite is the Hamsa from Israel. This palm-shaped amulet, depicting an open right hand, is recognized and used as a sign of protection in many societies throughout history to ward off the evil eye. While I would have loved to have ALL my family around me, sharing it with my wife and my son was lovely.
The other greatest gifts I received this holiday season were my author copies of Across the Pond from my publisher. After being known for my short stories, including my 2010 Award-winning anthology of erotic lesbian romance, Attractions of the Heart, I'm monumentally excited about the release of my first novel. Having the print version of Across the Pond in time for Christmas is icing on the Christmas pudding. Hanukkah is over and it's not even Christmas yet as I write this, but so far, I'm eternally grateful and duly blessed. Wishing everyone a most wonderful holiday and a happy and healthy New Year!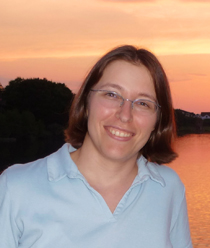 Jae
It seems I was a really good girl this year, because there were lots of presents under
the Christmas tree. Among them were a mug for playing golf during writing breaks, a stack of books, and a world map that I can use to record where I've travelled by scratching off the gold foil layer in those places.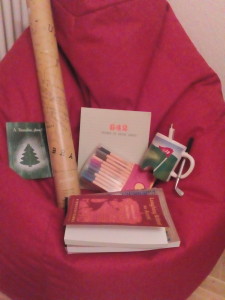 Cheyenne Blue
I have to admit, I don't really do holiday presents.  I'm more of a random giver, and like to surprise people with gifts at a non-specific time of year.  For me, the best presents are experiences. So the best holiday "gift" this year is an eighteen-day road trip. A long Christmas closure from my day job, and Australia's hot and sunny weather, means holidays.  I'm housesitting on the coast in New South Wales, followed by ten days of camping.  That to me is the best present.
Here's the view from the housesit.  Very inspirational for writing.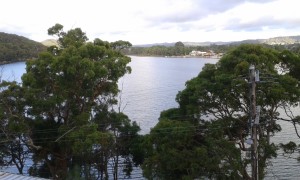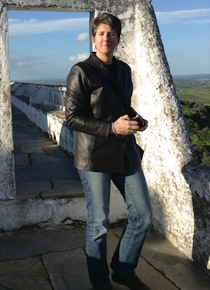 Fletcher De Lancey
My pre-Christmas conversation with my wife went something like this:
Me: Do you have any ideas as to what to get our son?
Maria: No, do you?
Me: Actually…he's been using my old iPad 2 with its cracked screen for months now.
Maria: True. And he hasn't complained about it. Of course, he couldn't complain since he's the one who cracked it.
Me: Right, but I still think it would be nice for him to have an iPad with a whole screen. How about if we get a new one for me, and give him my iPad Air?
Maria: What if I want your iPad Air?? He can have my iPad Mini.
Me: I thought you loved your iPad Mini.
Maria: I do, but it's so nice to read on the bigger screen…
Me: Ah, I get it. Your eyes are getting older. It's okay, I understand.
Maria: *punches my arm*  I'm younger than you, so watch it.
Me: Ow! Sheesh. So, you like the idea?
Maria: I like it.
(much later)
Maria: Hey! How come YOU get the new iPad? I've been tricked!
And that is how we had the Great Electronic Shuffle in our house. Everyone got a new iPad, though only one new device actually came into the house. All three of us are delighted with our new toys, especially my younger wife with her aging eyes who hopefully is not reading this post. If she is…thank you, sweetie, for giving me not only my wonderful new iPad but also the most awesome lock screen wallpaper ever.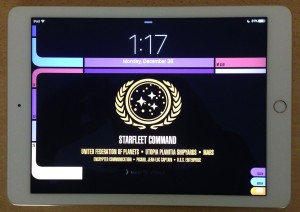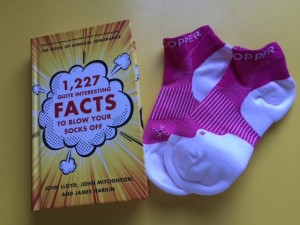 Catherine Lane
So far, my favorite fact from this great Christmas present is this: [see picture] A third of the 250 Americans who catch leprosy every year get it from armadillos. My wife added a pair of my absolute favorite socks to test the "blow your socks off" theory. Not going there. I love these socks so much I will keep them on opposite sides of the house.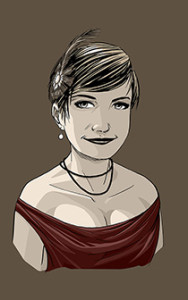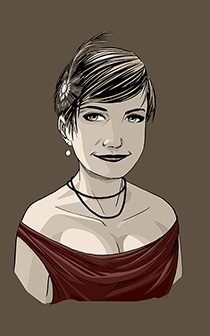 Nino Delia
We got an early Christmas present this year, namely arriving safely at my parents' house after eleven hours in a tiny car worming our way through traffic jams and a flashing fuel display.
It looked rather practical under the Christmas tree this year. There was a robotic mop –yes, Granny, I know you trust me to be able to run my own household–and Paula McLain's new novel about the great Beryl Markham. Just the right thing for a very, very quiet New Year's Eve was a DVD with the beautiful Kate Winslet to enjoy while everybody else is banging their ears off setting off fireworks, a fine German tradition. And maybe by that time I will find out what the wife will give me as a belated Christmas present…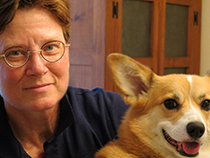 Caren Werlinger
My partner and I have made a tradition of splitting our holidays: Thanksgiving with my family and Christmas with hers. Since we're not home for Christmas, we usually exchange our gifts before we travel. Some years, she has a hard time surprising me with anything – I have a bad habit of buying things and giving them to her to keep for me. Yes, I'm one of those (but that way I get what I want with no need to stand in line for exchanges).
But I did get surprised this year! She got me new calligraphy pens, a set of colored pencils and a Celtic design coloring book. It's been a while since I've connected with that side of my creativity – so much time has been spent writing the last few years. She also bought me a new illustrated edition of Harry Potter and the Sorcerer's Stone! Now, I'll get to reread one of my favorite books as if I've never read it before.
I got to visit with a few Santas I carved several years ago, another one of those things I haven't made time for recently. Must fix that!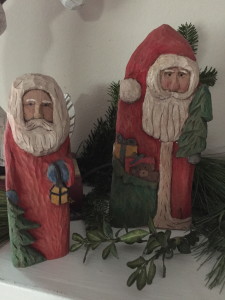 I hope you all had a joyous holiday – Christmas, Hanukkah, Solstice – whatever you celebrate, surrounded by family and friends.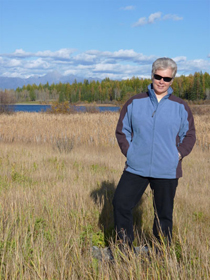 Lois Cloarec Hart
One of my favourite presents on any occasion is tickets, so my wife gifts me with all kinds of events—touring Broadway productions, music concerts, comedy performances, and even presentations at the Centre for Puppetry Arts. What I like best is that we share the enjoyment of the events, which doubles the pleasure I receive from the gift. Depending on when the performance is scheduled, I frequently get the tickets before the actual occasion we're celebrating. Already this fall, my wife had treated me to four performing arts events, but she held the best back for me to open on Christmas Day.
I love political satire. Jon Stewart, Stephen Colbert, and John Oliver are personal favourites. As a Christmas gift in the fall of 2014, we went to see John Oliver, and I laughed so hard that my sides hurt. We had the same wonderful experience with Wanda Sykes this November. But this Christmas, my wife presented me with tickets to see Capitol Steps in February. Their slogan is that they put the 'mock in democracy,' and they're equal opportunity satirists. With 2016 an election year, and candidates such as Donald Trump and Ted Cruz in the mix, I am looking forward to this performance with gleeful anticipation. As a Canadian, I am not eligible to vote in American elections, but that doesn't mean I can't enjoy mockery, wit, and witticism at the expense of the grand poobahs of politics. February can't come soon enough!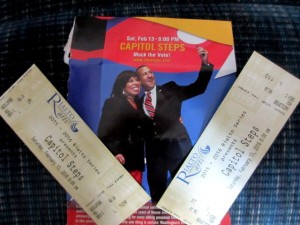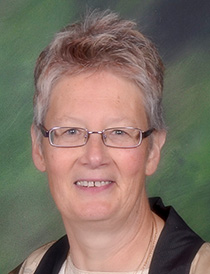 Jane Waterton
This year my partner and I decided that we weren't giving each other presents.  We are saving hard and after nineteen years, being together is still best present there is.
We had decided two weeks ago to get a new dog.  Our beautiful 6 year old dog had died very quickly and suddenly a couple of months prior, and the hole she left in our lives was making us incredibly miserable. So as an early Christmas present, we went and looked at the local RSPCA online. A week later we brought home a golden pup, with size 16 paws and the sweetest face. Maddi, aka Demolition Dawn, has taken over our lives. I had forgotten the perils of puppyhood.  Detritus spread from one end of the house to the other, chewing everything in sight, racing around the house like a lunatic and then, without a blink, falling sound asleep almost where she stands. The benefits of course include the non-stop cuddles, the laughter and the unconditional love.  Really, one of the best Christmas presents ever.…
Of course, the other highlight of the season was the positive reception to my first novel, Times of Our Lives, released in November. The feedback from readers has been even better than I had hoped.
Pip's family gave us a wonderful blower vac for our garden. The attached photo shows Pip assembling it with 'help' from Maddi.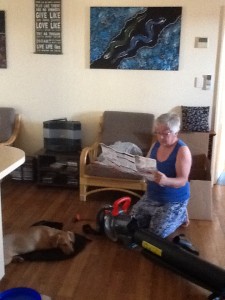 Wherever you are and whatever you celebrate, we wish you a very happy holiday season.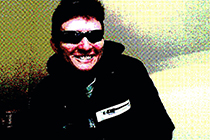 Andi Marquette
I've had a rocky relationship with Christmas in the past, but in recent years, I've made a concerted effort to remake this particular holiday into something that better suits my outlook and perspectives. And the way I've done that is to focus on what I can do to better my communities, especially this time of year. So one of the best gifts I got this year—like the past four years I've helped organize it—is the huge book giveaway I and fellow author Jove Belle coordinate at the blog Women and Words. We give books away for twelve days, beginning December 12 and ending December 23 and on average, it's 20-40 books a day.
I love seeing all the authors and publishers gladly put books up to give away, and I love the comments people leave expressing how much they appreciate not only the giveaways but the goofy blogs we do and the photos we post during that time. I can't tell you how good it makes me feel to see so many people commenting, getting into the spirit themselves. This year, I think there were a whole lot of people who really needed that sense of community, and I'm honored I was part of it.
Two other gifts I got were courtesy of Ylva, which released my short novel The Secret of Sleepy Hollow and my holiday novel, The Bureau of Holiday Affairs. Working with the crew at Ylva has been a great experience so far and I sure hope the fun continues.
And the third awesome gift I got was spending time in the mountains of Colorado. A view like this is one of the best gifts anyone could get.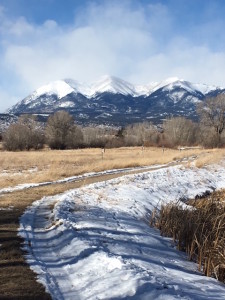 I hope everyone who celebrates Christmas had a wonderful time, and thanks to all of you for supporting this fabulous writing community of which I'm honored to be a part.
Cheers!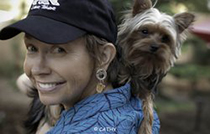 JR Wolfe
My favorite gifts this season are:
1) a healthy and happy mom
2)spending time with my family and friends in the snow.
Here's wishing everyone a great remainder of the holiday season and lots of joy in 2016!
— The Ylva Team