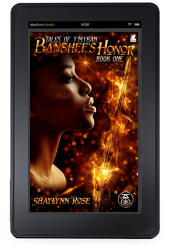 Want to pick up some great high fantasy at a low price? Come on over this Sunday to the Ylva website and get yourself a copy of Banshee's Honor by Shaylynn Rose. It will be on sale all day this Sunday for just $2.99. 
What better way to sink your teeth into the epic, dramatic, and romantic Tales Y'Myran series, with the book that started it off? A tale of good and evil, both mundane and ancient, this is a story about standing up to do what is right, even when it feels like the whole world is against you.
We are sure that once you meet half-elf Azhani Rhu'len, the Y'Dan kingdom's greatest warrior who was banished due to political intrigue by an evil sorcerer, and Kyrian Stardancer, her travelling companion who is escaping her own darkness, you won't be able to put this book down.
Take advantage of this deal now and buy Banshee's Honor this Sunday for an unbeatable price, exclusively on our website. Put it on your e-reader this weekend, where it'll be waiting for you when you hit that downtime between the holidays.