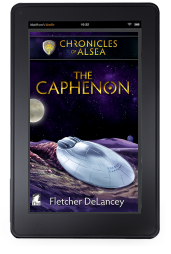 If you've been always meaning to try out Fletcher DeLancey's phenomenal sci-fi series The Chronicles of Alsea, you won't want to miss our phenomenal sale this Sunday on The Caphenon, the first book in the Alsea series.
This Sunday, all day, we'll be selling The Caphenon for just $2.99. Treat yourseslf to some thoughtful, speculative sci-fi featuring strong women, tough choices, and some romance along the way.
Or treat a friend with an e-book reader this holiday season. We've just made gifting your bestie with the entire Chronicles of Alsea series irresistibly inexpensive.
Fletcher DeLancey says that she got the idea for The Caphenon thinking about the implications of a very famous sci-fi franchise's fundamental rule: don't interfere with another culture's development if it's not "ready". But who determines readiness? And, she asks, "How is it doing that culture any favors when a different race of explorers comes along that doesn't play by the same rules?"
Good questions. Find out the answers and take advantage of our amazing $2.99 deal on this amazing book that started it all.
Learn more about Fletcher DeLancey's The Caphenon