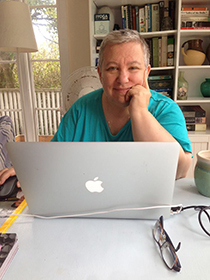 We recently spoke with Ylva author Cindy Rizzo about her new novel Getting Back, about the kinds of supporting characters she writes, and about her homage in Getting Back to a lesbian young adult novel from the 1970s. Very intriguing reading. Check out our interview with Cindy below:
How would you describe Getting Back? What is it about?
Getting Back is the story of the journey that publishing mogul Elizabeth Morrison must take when she learns that her first and only love, Ruth Abramson, will be the luncheon speaker at their 30th college reunion. Ruth and Elizabeth were lovers during their college years in the 1970s, but Ruth ended the relationship to become engaged to the boy that her family wanted her to marry.  The situation was complicated by the fact that Ruth's father was a famous dissident who, after being smuggled out of Russia with his family, led the struggle to free the Jews living in the Soviet Union.
When the two women meet up at the reunion and Ruth asks that they renew contact, Elizabeth is not sure what she could possibly want from Ruth. The process she goes through over the next few months to figure that out leads to a number of important changes in her life.
Why do you think second-chance romances like Getting Back are so popular with readers?
Everyone wants true love to prevail in the end. If two people are meant to be together, then they should be together. I think readers, including myself, are always rooting for that outcome.
I loved the supporting characters in Getting Back. I'm particularly curious about Reese, Elizabeth's senior editor and quasi-daughter, and Tracy, the psychologist. I know Tracy already has her own novel—Exception to the Rule. Will you tell Reese's story too?
In Getting Back, both Ruth and Elizabeth are in their early 50s.  This is often a time where you begin to assess who the people are that matter most to you. As Elizabeth is pondering what to do about Ruth, she's also confronted with the issue of her connection to Reese, whose career she's mentored for many years.  Is Reese the daughter she never had? Would it be presumptuous to assume that Reese thinks of Elizabeth as a parent? The fact that Ruth has adult children raises these questions to a new level for Elizabeth.
But to answer your question, Reese and her partner Jaret are actually an homage to a book I read years ago called Happy Endings Are All Alike by Sandra Scoppettone.  In that book, two teens, Peggy and Jaret, are lovers in high school and face a number of challenges. In the end, they each go off to different colleges and the future of their relationship is uncertain. To me, Reese and Jaret in Getting Back are the grown-up versions of Peggy and Jaret and they're still together, but in this version of a semi-open relationship. I don't know if Reese will be in a future book, but I wouldn't count her out.
Why did you choose to set the story in 2008 and not in 2015? Was there a particular reason for that?
I wanted to set Ruth and Elizabeth's college years in a time when feminism and gay liberation were first taking hold so that their own self-discoveries were embedded in that context.  In order to do so, I had to place them in college in the 1970s, so their 30th reunion would be in 2008.  Also, 2008 was a decisive year in US LGBT history with the election of Obama and the passage of Proposition 8 in California.  The Prop 8 campaign comes up toward the end as a pivotal event for Elizabeth.
With all the interesting characters in this novel, do you have a favorite?
I really fell in love with Elizabeth as I wrote the book and helped guide her through her journey. She's smart and successful but has these very touching vulnerabilities. I also adore her best friend, Margaret Halperin, who, as Elizabeth says, has "no filter." Readers can definitely expect to see more of Margaret in the future.
Which scene in Getting Back are you most proud of?
I have a few favorites, but I really like the scene toward the end where Elizabeth goes to the fundraiser in Hollywood and meets Ruth's son, Mark. I like the way that scene came together and the surprises it reveals.
It was interesting to read about a character who's a publisher and who faces many of the challenges and changes that the publishing industry is going through today. Why did you make your main character the owner of a publishing house?
Elizabeth Morrison was introduced as Robin Greene's publisher in Exception to the Rule, so she already existed in my fictional world.  I wanted to learn more about her, which is one of the reasons why I wrote Getting Back.  It was fun to write about all of the big changes going on in the publishing industry and how Elizabeth, as the CEO of a major firm, has had to navigate through those changes at the same time that so many upheavals are going on in her personal life. One of the advantages of setting the book in 2008 was that I could have Morrison Publishing be the first company to negotiate an agreement with Amazon and have that be very consistent with who Elizabeth is as a person and as an executive.
How long did it take you to write Getting Back?
I think it was about 8 months. Originally, I thought I was writing a novella that was a typical second-chance romance.  But as I kept writing, I realized I had so much more to say about Elizabeth and this important time in her life. So the book turned into a novel and blurred the lines between romance and general fiction.
Are you working on a new novel? What can your readers expect to see next?
It's likely I'll go back to two characters who made appearances in my second book, Love Is Enough. Debbie Michaels is the TV news reporter whose on-air interview with Congresswoman Angie Antonelli almost ruins her political career.  Diana Holbrooke is the beautiful socialite who is the ex-girlfriend of Jan Clifford. Neither woman is highly sympathetic, so I'm wondering what it would take to make us like them as individuals and root for them as a couple. I'll let you know when I know.
How can your readers stay in touch with you?
I'm incredibly accessible by e-mail (cindyt.rizzo@gmail.com), on Facebook under my name, and through my blog (www.cindyrizzo.wordpress.com).  I also created a cool Pinterest page for Getting Back that shares a lot of the images I used as I was writing the book.
 Thank you for talking with us, Cindy.
Buy Cindy Rizzo's Getting Back now.