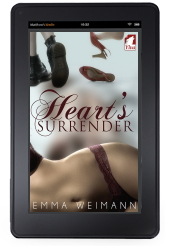 An Emma Weimann lesbian erotica bestseller for just $2.99
We've got quality lesbian erotica on sale today for you at a special price. Today's your one chance to get the award-winning Heart's Surrender by Emma Weimann, for just $2.99.
Heart's Surrender was an Amazon lesbian erotica romance bestseller when it came out in 2014. In 2015, it earned a Golden Crown Literary Award. Really, you can't go wrong with this one.
Learn more about Heart's Surrender
Available at this price today only on the Ylva website. Blink and you'll miss it.
Get it now before it's gone.