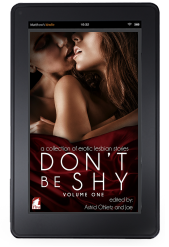 Do you live in a place where the coming winter is turning the air colder? Well, we've got just the thing to turn up the heat: our erotica anthology, Don't Be Shy, which we're offering this Sunday for a very special price.
On this Sunday only, Don't Be Shy will be available in the Ylva online shop for the rock bottom price of $2.99, as part of our new sales series, Ylva Super Sunday Specials.
Want to know a secret? Don't Be Shy is a great, low-risk way to sample some of Ylva's writers with new releases coming out in 2015 and 2016 – Jove Belle, Cheri Crystal, Eve Francis, and R.G. Emanuelle, just to name a few.
And with twelve stories in this anthology, that's literally 25 cents a story. You can't go wrong with this deal. Available for 24 hours, all day and all night on November 15 exclusively in our online shop. Just come to our homepage and follow the link for Don't Be Shy, Vol. 1 
And we've got more fun titles lined up for you in the coming weeks, so tune in here every Friday here to find out the next book we'll put on special.