Tales of the extraterrestrial and the otherworldly dominate our new releases this week. We are pleased to bring you books by some great, experienced authors—Andi Marquette and Fletcher DeLancey! We also offer up a spooky assortment of stories about witches, ghosts, ghouls, and other things that go bump in the night in the form of a new short story collection coming out just in time for Halloween. Check out the details below: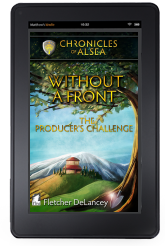 About Without a Front: The Producer's Challenge by Fletcher DeLancey
In Without a Front: The Producer's Challenge, we dip back into The Chronicles of Alsea series for a second time. In The Caphenon, the first book in the series, the world of Alsea found out about the existence of life in the universe when the technologically advanced Voloth invaded their planet. Now, in DeLancey's second book, the war with the Voloth is over, but the political aftermath has only just begun. Lancer Andira Tal is busy rebuilding her society, figuring out what to do with a population of Voloth prisoners of war, and deciding how to release the new Voloth technologies that have become part of her society. Meanwhile, Alsea was a highly caste-divided, politically tense planet before invasion, and this state of affairs hasn't exactly changed. Tal takes a chance on courting the Producers, a powerful caste that could create a political majority. But Tal's political enemies are quick to jump in and exploit any weakness she might display, and her gamble on the Producers may turn out to be a politically fatal one.
Can Andira Tal find a way to unite Alsea's warring factions, or will Alsea do to itself what the Voloth never managed? Buy Without a Front: The Producer's Challenge now exclusively on the Ylva online shop.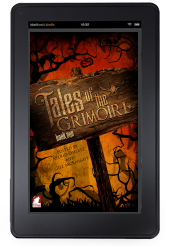 About Tales of the Grimoire, editors Astrid Ohletz and Gill McKnight
Tales of the Grimoire has something for almost any horror fan—ghosts, vampires, witches, and even cannibals. The stories in this anthology run the gamut from the purely scary to the terrifying and erotic. From the ghostly seduction of a Victorian governess to an infestation of predatory vampires in a substance abuse clinic, twelve of Ylva's hottest authors spin haunting, creepy, and at times even erotic tales of good and evil, terror and suspense. You might just need to hide this book under your bed at night before you go to sleep.
Proceeds from Tales of the Grimoire will be donated to Middle Eastern refugees in Greece.
Despite all its nasty, scary stories, Tales of the Grimoire's reason for existence is to do some good in the world: One dollar from the sale of each copy of the Tales of the Grimoire anthology will be donated to Village of All Together, a grassroots organization of local civilians informally helping the thousands of Middle Eastern asylum seekers that have been continually arriving on the Greek island of Lesvos for over a year.
Lesvos, a touristic island, is one of the closest European Union locations to Turkey, making it an ideal point for refugees to use as a crossing point from the Middle East to Europe. As many as three to four hundred refugees can arrive on a single day in Lesvos, which has refugee reception facilities for only about 300 people. Lesvos' facilities have been completely overwhelmed, with over 10,000 refugees waiting on the island in detention centers or living outside in tents, and more arriving daily.
Village of All Together is a civilian group providing food, clothing, supplies and temporary housing directly to these refugees arriving daily on Lesvos.
Buy Tales of the Grimoire now, exclusively at the Ylva website, and do some badly-needed good in the world.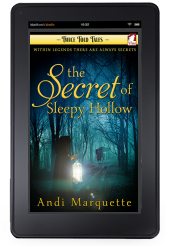 About The Secret of Sleepy Hollow by Andi Marquette
Andi Marquette's The Secret of Sleepy Hollow is a take on the famous Washington Irving story like you've never seen it done:
Tabitha "Abby" Crane is an unsuspecting doctoral student working on her thesis. When she manages to sneak in a research trip over Halloween weekend to the historical village of Sleepy Hollow, New York (yes—that Sleepy Hollow), Abby expects little excitement other than maybe uncovering new research on the town's most infamous legend—that of the headless horseman. But Abby has no random interest in the legend. Her ancestor is Ichabod Crane, who disappeared over two hundred years ago under mysterious circumstances, perhaps even at the hands of the ghostly horseman.
The unexpected develops when Abby crosses paths with Katie, who makes her head spin and her heart pound. Katie invites Abby on a nighttime visit to the glen where the legend says the headless horseman rides, and it's the perfect mix of romance and research. Abby can't say no.
Will they find the key to Ichabod Crane's disappearance all those years ago? As love, legend, and magic intermingle, it's clear that Sleepy Hollow has plans of its own for yet another Crane.
Buy The Secret of Sleepy Hollow now, exclusively at the Ylva website.