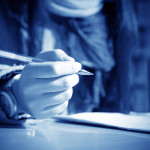 Are you a book person?
Does your dream house contain its own library, complete with stepladders to reach all your books shelved from floor to ceiling? Does your monthly financial budget include a line-item for book purchases? Do you find the world of books inherently romantic?
Do you like to write short stories?
If you said "yes" to these questions, then you might just the book person Ylva is looking for to contribute to our upcoming anthology about romance and passion in the literary world, Finding Ms. Write, which will be published in mid-2016.
We're looking for romantic short stories about people somehow involved in the literary world – be they librarians with secret urges, shop owners crushing on their most passionate book-loving customer, literature professors who find love at a department meeting – the possibilities are endless.
Is my story write right for this anthology?
We are looking for lesbian fiction only. At least one of the main characters must be a lesbian. Stories can be romantic, humorous, or erotic. If the story is erotica, it must be F/F. It should be between 4,000 and 8,000 words in length.
Only previously unpublished short stories from female authors please!
For more details about this submission call, please click here: Submission call