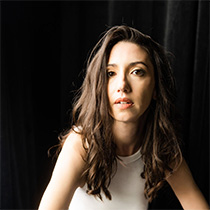 Carrie Byrd is a California native and college professor who lives just outside Philadelphia. She loves hiking and kayaking, burritos, video games, Old Hollywood, Eagles football and Phillies baseball, teaching poetry, talking a mile a minute, and traveling around the world with her wife.
An extrovert who thrives on a stage, Carrie once won first place by crowd vote for her improvised lip sync of "Jessie's Girl" at a packed drag brunch. She considers it one of her life's greatest accomplishments.
Carrie's favorite word is thistle. It feels good to say out loud.
CONNECT WITH THIS AUTHOR:
RECENTLY PUBLISHED BY THIS AUTHOR: