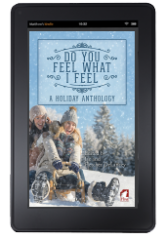 Putting together a holiday anthology has become an annual tradition at Ylva Publishing—and one that we enjoy very much.
This year's holiday anthology—Do You Feel What I Feel, edited by Jae & Fletcher DeLancey—is like a gift basket that contains a wide variety of everything we love: There are romantic stories of established couples celebrating Christmas or Hanukkah together and stories of strangers who meet during the holidays and become so much more. We have stories written by established authors such as Blythe Rippon, Caren J. Werlinger, Lois Cloarec Hart, and Jove Belle and stories penned by newly discovered talent. There are stories set in the present, in the past, and in otherworldly realms.
All twelve stories have one thing in common, though: they will leave you with a sense of love and hope.
To share some of that hope with people who are less fortunate, we decided to donate all profits from this anthology to YouthCare, a shelter for LGBT homeless youth in Seattle, and to Angalia, a group giving shelter and food to refugees in Greece.
If you're looking for something to get you into the holiday mood, look no further!
Buy Do You Feel What I Feel now, exclusively on Ylva's website.